Casting core from the 3D printer – Carl GmbH reduces manufacturing costs
An x400 3D printer reduces manufacturing costs at distillery equipment manufacturer Carl GmbH. Carl GmbH has been manufacturing distillery, distillation and brewery equipment for more than 140 years. The Swabians supply and install their equipment all over the world. When an order came in from an Irish whiskey distillery, they broke new ground and relied on copper casting. The casting core for this was produced with an x400 3D printer from German RepRap.
The new plant was to hold over 10,000 liters of mash in two distillation boilers. The challenge was to create a nice connection between the boiler and the cooling system in this scale. A copper tube is used for this, but it has a conical and bent shape and has flanges at both ends. One bend measures approximately 97 x 63 cm and has a tube diameter of 43 cm at the larger flange.
The normal way would have been to nail the copper into shape by hand with a hammer and anvil in about six weeks of work, explains Thomas Keller, who had the project under his wing on the technical side. The cost of this: several tens of thousands of euros, and that's times two, since each boiler needs a bend to the radiator. So the alternative of cast copper came into play. Keller sums up the main problem: "How do I get a mold cost-effectively?" Milling, or having a mold milled, had proven to be just as uneconomical as denning by hand when doing the calculations.
After some research, Thomas Keller concluded that it would be worthwhile to try to produce the casting core for sand casting using a 3D printer. So, according to him, he set out to find a 3D printer with the best price-to-print space ratio. What was eventually purchased was an x400 model from German manufacturer German RepRap. The 3D printer prints objects up to a size of 400 x 400 x 350 mm, which corresponds to a volume of 56 liters.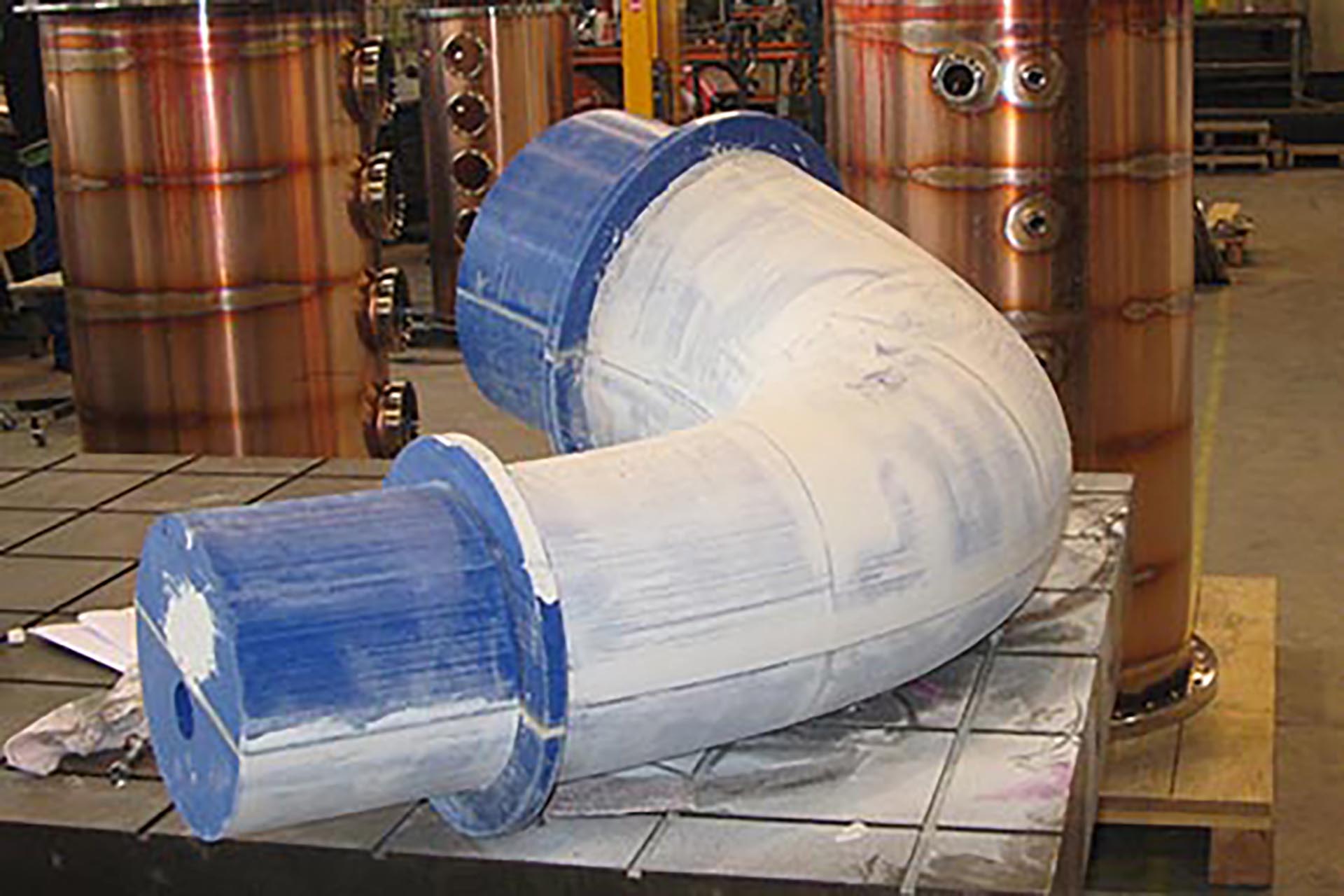 Since the two sheets could not be printed as a whole, they were cut into 22 and 16 parts respectively. This gave them a printable size. The printed casting core consists of two halves. The individual parts are glued together and filled. Finally, the entire model is sanded down again. Already in the design of the 3D printed models, approaches were taken into account for the subsequent wax foil, which is melted out later as a lost model. After melting out the wax, the liquid copper is cast. In this way, 3D printing and sand casting create a custom-shaped copper arch.
Keller printed his casting cores using PLA. These polylactic acids (polyactides)are melted at 210°C and built up in thin layers of about 0.1mm to form a 3D object. "PLA is easy to print and delivers very reliable results," Keller said of his choice. With a speed setting of 50 mm/s and 250%, or 125 mm/s, a part was ready after 2.5 days of printing. The new manufacturing process paid off. In the meantime, a second x400 printer is at Carl GmbH.